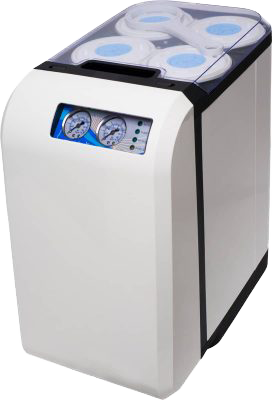 COMPACT AND ADVANCED CONTINUOUS FLOW RO SYSTEM
An advanced continuous flow reverse osmosis system that can be used for residential or commercial applications.
Stunningly compact and environmentally friendly, the G500 purification system provides continuous, clean, fresh, great-tasting drinking water. The G500 system eliminate unpleasant taste and odor and removes chlorine and contaminants such as heavy metals, pesticides, and chemicals. 
We refined, re-imagined, and re-engineered everything you know about water purification from inside out. The result is an elegant all-in-one water purification system that is as much a work of art as it is a state-of-the-art purification system. The G500 is a must have for your home, office, or restaurant! 
Versatile & User Friendly
| | |
| --- | --- |
| Dimensions | 16.5 x 10.2 x 17.3 in  |  44 x 26 x 44 cm |
| Weight | 41.9 lb | 19 kg |
| Tube Size | 3/8" |
| Operating Pressure | 20 – 60 psi  |  1.4 – 4 bar |
| Maximum Pump Pressure | 125 psi  |  8.6 bar |
| Power Input | 110V 60Hz | 230V 50Hz | 60Hz |
| Power Consumption | 36V DC / 2A |
| Recommended Water Temperature | 41°F – 100°F  |  5°C – 38°C |
| Maximum TDS | 2000 ppm |
| Maximum Hardness | 291 ppm | 17 grain / gallon |
| Maximum Chlorine | 0.2 – 1.0 ppm Chlorine |
| Maximum Iron | 0.3 mg/L |
| Maximum Manganese | 0.05 mg/L |
| Maximum Turbidity | 2 NTU |
| pH Level | 6.0 – 8.5 |