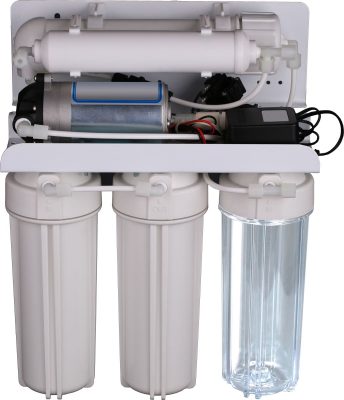 The 75GPD is a small, point-of-use reverse osmosis drinking water system ideally suited for residential applications.
The 5-stage system is made up of a 5 micron sediment pre-filter, a second stage GAC carbon filter, followed by a BLOCKFREE series filter, designed for optimal RO membrane protection. The water then filters through a high-grade RO membrane and passes through a post-carbon filter for final polishing and to remove any remaining taste or odor.
The system comes complete with a chrome-plated plastic faucet. Optional booster pump is equipped with all aluminum end caps, providing better thermal management and longer service life. Optional RO storage tanks are also available.
| | |
| --- | --- |
| Dimensions | 14.6 x 10.6 x 18.5 in  |  37 x 27 x 47 cm |
| Weight | 21 lb  |  9.5 kg   |
| Tube Size | 1/4" |
| Operating Pressure | 20 – 60 psi  |  1.4 – 4 bar |
| Maximum Pump Pressure | 100 psi  |  6.9 bar |
| Power Input | 230V AC  |  110V |
| Power Consumption | 24V 1.2A 28W |
| Recommended Water Temperature | 41 – 100°F  |  5 – 38°C |
| Maximum TDS | 1000 ppm |
| Maximum Hardness | 7 grain/gallon  |  120 ppm |
| Maximum Chlorine | 0.2 – 1.0 ppm Chlorine |
| Maximum Iron | 0.3 mg/L |
| Maximum Manganese | 0.05 mg/L |
| Maximum Turbidity | 2 NTU |
| pH Level | 6.0 – 8.5 |
| Product | Description | Faucet | Pump Supplied |
| --- | --- | --- | --- |
| 75G-110V | 5-Stage 75GPD RO System 110V. 24V 1.2A without RO tank | Likuan low-lead faucet | Yes |
| 75G-NP | 5-stage 75GPD RO System 110V. 24V 1.2A without RO tank | Likuan low-lead faucet | No |